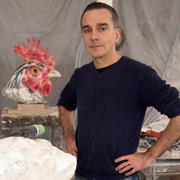 Born 1952 in Limoges, Jean Marie Fiori lives and works in Paris, France. He is a graduate of the Beaux Arts and has a masters degree in Fine Arts form Paris Vincennes VII.

After years working on decorative interiors using the techniques painting, fresco and trompe l'oeil, JM turned to sculpture in the early 90's. In 1997 in Mallorca, he erected the "tour aux betes" (Beastly tower) and in 1999 the "dolmen de Serris" for Marne la Vallee. In 2000 he created a zodiac series for The Paris Mint. His material of predeliction is alabaster, whose rich texture and whiteness resonate the colors with which he completes his work. He also works in bronze creating unique furniture pieces which incorporate sculptural elements, but are more stylized and architectural by nature.

His work is represented exclusively by the Gallery Dumonteil in Paris who has exhibited his works in international art fairs in New York, Shanghai, Brussels, London, Geneva, Moscow and Abu Dhabi. His work is in numerous private collections throughout the world .